After a few days at sea on an ocean crossing, any weather forecast we take with us becomes too old to be of any use. During the crossing we are out of range from all normal communications, so have two ways to receive vital weather information:
SSB is short wave marine radio. We have a good SSB setup on our boat, and can talk to other crews on other boats across vast distances (up to thousands of miles) if the conditions are right and receive small emails containing basic weather reports, computer generated
GRIB files predicting wind and pressure systems and synoptic weather faxes. SSB radios are quite technical (you have to do a 5 day long range communications course and be licensed to use it) and can be a bit temperamental as they are prone to atmospheric disturbances reducing quality and hampering download speed. SSB (once installed) is free to use.
Satellite phones work all around the world, are simple to install, easy to use but expensive to run ($1/per minute call charges). They and can only be used like a normal phone to talk to one person at a time. They can be used for data, but like SSB, are limited to very slow reception of small emails (unless you pay many hundreds or thousands of $ per month). Normal yacht systems can be used to access basic mobile web sites and can send very small photo updates and posts to Facebook, twitter, blogs etc.
Our satellite system is an Iridium Go!, with the first ever unlimited satellite data plan, meaning for £85/month we don't have to worry about how long or how much data we're using. Satellite data speed is 2.4k – literally a thousand times slower than a typical home broadband system, so the "unlimited" is purely for cost savings – not movie downloads or web browsing. To illustrate how slow slow is, this page would take about 45 minutes to download over our satellite connection. In reality it never would because the satellite drops out and disconnects regularly.
That said, this data plan is great, and will allow us to receive a rich set of weather updates (albeit slowly) and post small blog updates as we cross.
The most useful type of weather nowadays for sailors are computer generated GRIB files, showing increasingly accurate data of wind speeds and pressure systems for any region in the world. GRIBs are the raw output from supercomputer generated climate models, so have not been curated, checked or annotated by human meteorologists. Basically you need to know what you are doing to read them accurately and reliably.
Synoptic charts show weather systems, pressure, fronts and their predicted movement given the raw data and experience of a forecaster. These are generally more accurate for forecasting and fill in more detail.
The weather information we'll be getting daily:
GRIB files: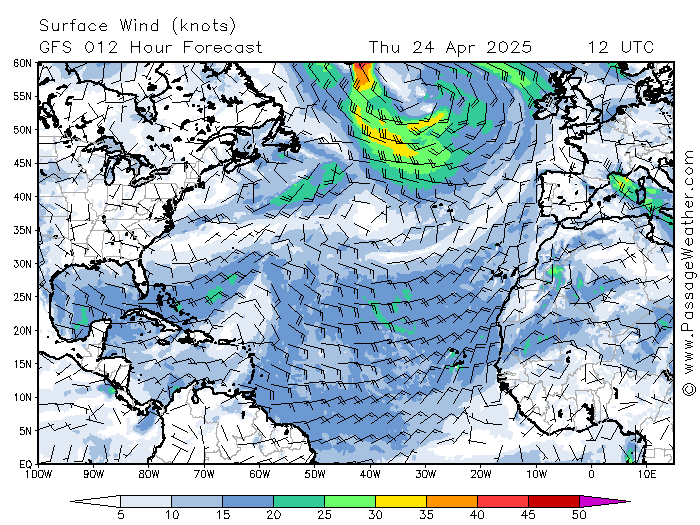 Synoptic and analysis charts:
1) Tropical Atlantic Actuals – a detailed meteorologist's view of the actual weather in the tropical Atlantic. (This is about 86k, but is very detailed and full of raw data. Download my quick guide for help reading these charts)
http://www.opc.ncep.noaa.gov/UA/Atl_Tropics.gif
2) Atlantic Surface Wind Analysis – a summarised analysis of the current weather. (about 32k)
http://weather.noaa.gov/pub/fax/PYEA11.TIF
3) 48 hr Atlantic Surface Wind – a forecast for 2 days in advance, so we can see what is predicted to happen (about 34k)
http://weather.noaa.gov/pub/fax/QDTM10.TIF
4) 96 hr Atlantic Surface Wind – a forecast for 4 days in advance, so we can see what is predicted to happen (about 33k)
http://weather.noaa.gov/pub/fax/QDTM10.TIF
5) 24 hr W. Atlantic Wind and Waves – a chart showing wave heights and winds in the western atlantic in the next 24 hours (about 27k)
http://weather.noaa.gov/pub/fax/PWEE11.TIF
---
Weather sources
NOAA automated ftp
This is an automated and free service that you request by email. Simply send the following email and NOAA's computer systems will automatically reply with separate emails each containing one of the requested charts.
Send to: ftpmail@ftpmail.nws.noaa.gov
Subject: Weather
Email contents:

open
cd fax
get PYEA11.TIF
get QDTM10.TIF
get PWAM99.TIF
get PWEE11.TIF
compress
mime
force mime
quit
eg:
---
Saildocs Automated Grib files
Saildocs have a fully featured automated responder that will fetch and deliver to you by email a grib file for the requested area. The more information that is requested, the larger the attached grib file will be, but the following gives the whole of the Atlantic for 3 days at 12hr intervals and is about 55k in size. It returns surface wind, pressure, precipitation, cloud cover and CAPE data (risk of thunder storms).
Send to: query@saildocs.com
Subject: Weather Request
Email contents:

send gfs:N11.0,N29.0,W65.0,W11.0|1.0,1.0|0,12..72|PRESS,WIND,APCP,TCDC,CAPE
eg:
You can do a lot with the Saildocs service – you can request Grib files, set up a subscription to send Grib files every day at a specific time, request text weather reports and even request the text from your favourite web sites (such a news site). More info.
eg:
To: query@saildocs.com
Subject: (anything)

send http://www.bbc.co.uk/mobile/index.html
See here for a list of good mobile (i.e. very small) sites.
---
Grib viewers
There are plenty of free GRIB viewers around, but this is a nice one I've found. The PredictWind viewer is available on Mac and Windows and can be downloaded and used for free.
There are also very good iOS Grib viewers, my favourite being Weather4D